Enemy Front, CryEngine 3 WWII FPS Announced For Xbox 360, PS3, PC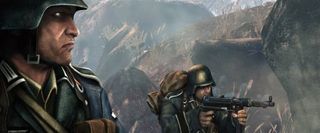 City Interactive has announced today that their UK and Poland development studios are hard at work on an upcoming, gritty, World War II first-person shooter called Enemy Front. The game will be running on the CryEngine 3 and is scheduled for release on the Xbox 360, PS3 and PC.
As stated in the press release…
The game is being headed up by Stuart Black, the legendary lead designer behind the extremely popular (though greatly underrated) first-person shooter from EA, Black. It's a real shame more games aren't designed like that and it's an even bigger shame knowing that it's completely possible given that Black was on the PS2.
One thing is for sure and it's that City Interactive has confirmed that their use of CryEngine 3 will support fully destructible environments and that every bullet will have a destructive destination. Exactly how "destructible" are these "fully destructible" environments? We won't know until footage surfaces, but again…hopefully it's closer to Black than say BodyCount. Other games also boast "fully destructible" environments but it's like a candle tipping over on a nightstand or glass breaking.
Anyway, Enemy Front is scheduled to release sometime in 2012 for the Xbox 360, PS3 and PC. We'll be sure to keep you posted on any updates for the game and I for one can't wait to see exactly how these "fully destructible" environments will look.
For more info feelf ree to visit the Official Website.
Staff Writer at CinemaBlend.
Your Daily Blend of Entertainment News
Thank you for signing up to CinemaBlend. You will receive a verification email shortly.
There was a problem. Please refresh the page and try again.