Expendables 2 Videogame Officially Announced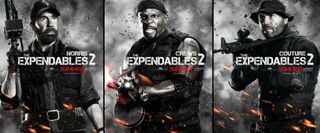 We reported on the Expendables 2 Videogame well before Ubisoft actually announced the darn thing but for fans who wanted some sort of official stamp on their video game announcements, consider this article an official stamp from Ubisoft acknowledging that the Expendables 2 game is officially scheduled to release.
According to the explosive, albeit brief press release...
Call me a sappy fanboy but I will get this game. This is like a dream game come true for a lot of fans from the 80s bad-action movie era. I know this game will probably suck as indicated by the snippet of gameplay footage from Shogun Gamer, but who cares! It's the freaking Expendables 2! Plus, this is a four-player co-op game fueled by testosterone and driven by kerosene; you cannot ask for anything more and despite hoping this would be a Gears of War clone, I think many of us can still be satisfied with a isometric arcade shooter.
The game features Barney Ross (Sylvester Stallone), Gunner Jensen (Dolph Lundgren), Hale Caesar (Terry Crews) and Yin Yang (Jet Li). I was pretty sure that Lee Christmas (Jason Stathom) was in the game but maybe not. Anyway, Ubisoft is in a prime opportunity to cash in on all us fanboys by making DLC packs containing Arnold, Van Damme, Scott Adkins and Chuck "Freaking" Norris! I mean can you even believe that all these guys are even going to be in the same movie? My mind is on the verge of a nuclear meltdown trying to comprehend the epicness.
Anyway, Expendables 2: Videogame will be released this summer for the Xbox Live Arcade, the PlayStation Network and digitally for PC.
Find out more about both the movie and the game by paying a visit to the Official Expendables Website or be sure to keep an eye on more media assets with the Blend Film Database.
Staff Writer at CinemaBlend.
Your Daily Blend of Entertainment News
Thank you for signing up to CinemaBlend. You will receive a verification email shortly.
There was a problem. Please refresh the page and try again.