Expendabros Is A Free Expendables 3, Broforce Crossover Game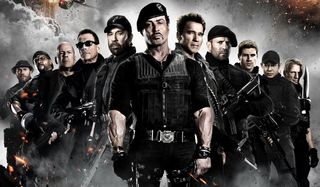 What we have here is a movie/video game crossover that was basically made in heaven. Melding together perfectly like peanut butter and jelly, or perhaps a machinegun and an extra clip of ammo, are Broforce and the upcoming movie starring every action hero known to man, The Expendables 3. Get locked and loaded for…The Expendabros.
My knee-jerk reaction when I see a word like "Expendabros," or when I read about a movie crossover promotion with a video game, is to roll my eyes as dramatically as humanly possible. I got about a third of the way through this particular eye roll when it suddenly occurred to me how absolutely perfect this particular pairing is. It's no Mario Kart/Mercedes Benz, of course, but it's up there.
I mean, think about it: Broforce is a love letter to action movies of the 80's and 90's, featuring Bro-erized versions of just about every big-muscled hero imaginable. Players parade around 2D environments, blowing stuff up and murdering enemy soldiers by the dozens. If that doesn't sound like half of the plot to an Expendables movie, I don't know what does.
Speaking of plots, here's a rundown of what you can expect out of the brand new game, available free of charge starting today on PC via Steam.
"The Expendabros have assembled and set their sights on the forces of ruthless arms dealer Conrad Stonebanks in the forests of Eastern Europe," reads a statement from Free Lives and Devolver Digital. "Battle in a flurry of bullets and non-stop action through ten full-throttle missions set amongst the picturesque tree tops and the absurdly dangerous lumber mills teeming with enemy soldiers, excessive artillery, and inconveniently placed circular saws."
Your mission is to rescue fellow captured Expendabros while taking control of seven playable characters, each boasting their own weapons and special attacks. Even better is that, just like in the Expendables movies, teamwork is always the best road to victory, as the game allows for up to four-player local multiplayer co-op.
The game is available now, so just head on over to Steam and get your free copy downloading. This offer is available through Dec. 31, though I doubt it will take you that long to decide whether or not you want a gratis game called Expendabros.
And, just in case you need an extra dose of testosterone to get you pumped for the game, here's the latest trailer for the movie, launching in theaters next week.
Staff Writer for CinemaBlend.
Your Daily Blend of Entertainment News
Thank you for signing up to CinemaBlend. You will receive a verification email shortly.
There was a problem. Please refresh the page and try again.