Fable III Co-op Walkthrough And Baby Making Video Released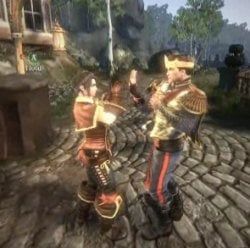 There comes a time in every parent's life when they're asked by their kid…"How are babies made?" well dear parents, there is an easy solution for this…just show them how it's done in Fable III. Problem solved. The new cooperative mode walkthrough video does just that…showing off how two players can woo each other to no end, kiss a little bit and finally get married across two separate virtual worlds. Not only can you get married and do all the romantic stuff leading up to the marriage, but there is also some bed-rumbling, wall-shaking action to be had in order to pop out a kid. My only question is who the kid goes to once both players go offline?
There have been some significant changes to Fable III's co-op, as well as a lot of improvements to the features that already worked well. For instance, now each player can bring their own custom hero into the cooperative game world, instead of being left with a default Dorbert. Players can share houses and do the whole Sims live-your-life gig, or venture out and conquer the world together.
You can check out the hilariously informative new developer diary below or visit the Official Website to learn more about the game. Fable III is due out tomorrow (October 26th) in North America and October 29th in Europe, exclusively for the Xbox 360 and will retail for $59.99.
Your Daily Blend of Entertainment News
Staff Writer at CinemaBlend.