Fallout 4 Patch Disables Mods, Here's How To Fix That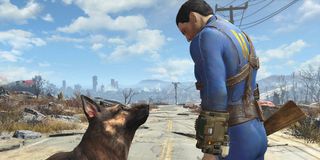 Fallout 4's Patch 1.2 was released for the PC version of the game today. Patches are usually a good thing but this update came with an annoying side effect: it disables mods.
Players are reporting that mods are being disabled by Fallout 4's launcher. This doesn't seem to be a conscious effort on Bethesda's part. Game patches often disrupt mods' functioning, forcing the creators of those mods to update them. I'd imagine many modders are doing just that right now. In the meantime, players have discovered the following workaround:
Launch Nexus Mod Manager
Run Fallout 4 but don't push "Play" on the game's launcher.
Re-enable your mods with the Nexus Mod Manager.
Play Fallout 4
If that workaround isn't having the intended effect, check out this thread on Bethesda's forums for other potential solutions.
Although Fallout 4's official modding tools won't be out until next year, players have already developed several modifications for the post-apocalyptic role-playing game. These creations have added lightsabers, removed creepy mannequins and even pissed off Major League Baseball among other things. Most of these mods are fairly small in scope but still make some fun changes to the game so I'm glad there's a way to fix what the patch broke.
Patch 1.2 adds a couple user interface options along with a range of bug fixes. Here's the full list of changes you can expect:
New Features
Number pad keys can now be used for remapping (PC)
Remapping Activate now works on Quick Container (PC)
Fixes
General memory and stability improvements
Performance improvements inside the Corvega Assembly Plant
Optimizations to skinned decal rendering
Fixed issue with player becoming stuck in terminals
Fixed issue where equipped weapons become locked after completing Reunions
Fixed issue with "When Freedom Calls" where the quest would not complete
During "Confidence Man" fixed issue where player's health would continuously regenerate
Fixed crash related to jumping into water and reloading saved games
Fixed issue where Launcher would not save God Rays Quality setting properly (PC)
Bethesda announced through the official Fallout Twitter account that they're not far from releasing the patch on PS4 and Xbox One:
Fallout 4 launched nearly a month ago on PS4, Xbox One and PC. If you're having trouble with the PC version, be sure to check out the long list of cheat codes for some assistance. Also don't miss the infinite money and infinite carry weight exploits that players discovered soon after launch.
Your Daily Blend of Entertainment News
Staff Writer at CinemaBlend.