Family Guy: Back To The Multiverse Screenshots Battle Chickens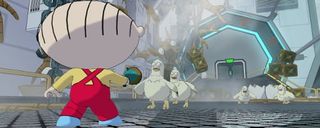 Heavy Iron has released another group of screens for their Family Guy shooter Back to the Multiverse. These images show Stewie and Brian traveling to a space station to battle chickens.
In Multiverse Stewie and Brian will travel through several dimensions to stop Stewie's evil twin Bertram. This premise pretty much allows the developers to use any map or enemy idea they can think of. The game should be just as random as any Family Guy episode.
Presumably the chickens are related to Ernie in some way. Ernie is the man-sized chicken that regularly fights Peter Griffin on the television show. He's one of the most memorable characters on the show so it seems fitting he'd make an appearance in the game.
Multiverse will hit the PS3 and Xbox 360 later this year.
Image 1 of 4
Image 2 of 4
Image 3 of 4
Image 4 of 4
Staff Writer at CinemaBlend.
Your Daily Blend of Entertainment News
Thank you for signing up to CinemaBlend. You will receive a verification email shortly.
There was a problem. Please refresh the page and try again.