Far Cry 2 Vs. Call Of Duty: World At War: Final Round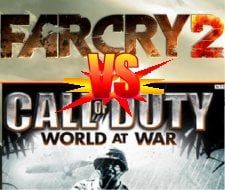 It's that time again...yes it's Friday. So you know what that means? Yep, another round of Blend Games weekly battle bouts. And this round will conclude a rather lop-sided battle between two of fall's biggest shooters: Far Cry 2 and Call of Duty: World at War. Could Treyarch's shooter come out on top with a super third-round victory? Or will Ubisoft's safari shooter take a three-round sweep? Keep reading to find out.
As usual, most gamers have voiced complaints about the unfairness between the comparison between these two games. Far Cry 2 has owned up big time with a two-to-one lead over CoD. But if there's anyway at all for Call of Duty to redeem itself, it would have to be this week, in this round. Want to know why? Well, it's simply because this round is all about the multiplayer. As usual, I'm not going to waste a lot of words on nothing, so let's get this final round underway.
Round 3: Multiplayer Madness
For Far Cry 2, the multiplayer isn't necessarily bare-bones, it's just not very meaty either, given the limit of up to 16 players on a map. The biggest difference between Far Cry 2's multiplayer and Call of Duty, however, is the Map Editor. This instantaneously adds limitless amounts of multiplayer replayability. Players can customize and upload their maps within a community that can rank and review the maps, so crap isn't always going to be at the top of the download charts. There's also the new class-based progression system that allows players to start off within a certain weapon class, but can branch out and earn more stash as they successfully win in online bouts. And like Call of Duty, Far Cry 2 uses fire as a means of prevention as much as a means of penetration. Players can use flamethrowers to hose opponents down with flames until they're burnt crisp, or layer the surrounding area with fire, which can be used to prevent opponents from crossing a burning brush, etc. Vehicles will also play a part in Far Cry 2, and the modes include Deathmatch, Team Deathmatch, Territory and a CTF mode.
Call of Duty: World at War's multiplayer is a completely different beast. CoD offers up gamers both online and offline cooperative play, with up to four-players in the online co-op and two players in the offline co-op, for the PS3 and Xbox 360. That alone sort of trumps Far Cry 2, but it doesn't really stop there. The experience that players earn the in the cooperative modes will carry over into the competitive multiplayer modes, allowing players to use their earned points from the campaign, just like Call of Duty 4. On the competitive side of the multiplayer, the modes include: team deathmatch, hardcore HQ, multi-bomb search and destroy, hardcore free-for-all, war, and capture the flag. As mentioned, players can use the points on perks that allow for all sorts of advantageous skills that can be used during the heat of battle. Treyarch also confirmed that vehicles will also be present in the multiplayer modes, so Far Cry 2 no longer has a one-up on Call of Duty in that front. In fact, the vehicles in CoD: WaW will be specifically made to support teams and multiple players. Add in a fleshed out ranking system, persistent stats, new weapons like the flamethrowers, and you have yourself a serious battle between these two games.
Time to Vote!
All right, this is it folks. The final round between two of falls most anticipated simulation-shooters. What will it be? What game sounds like it has better multiplayer features? Which game will you choose in this final round? Okay, enough chit-chat, log in your vote now!
This poll is no longer available.
Staff Writer at CinemaBlend.
Your Daily Blend of Entertainment News
Thank you for signing up to CinemaBlend. You will receive a verification email shortly.
There was a problem. Please refresh the page and try again.