Fight To Survive The Black Plague In New Medieval RPG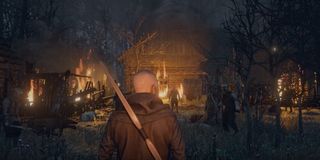 If you've ever sat and wondered what it was like to live and survive during the black plague, well a new dark multiplayer RPG from Syrin Studios is about to give you that opportunity. In the upcoming survival game, The Black Death, you can choose from over 10 different classes to wander the world, fighting for survival during the sweep of the black plague.
Some of the classes you can choose range from being a simple farmer to mastering combat as a knight. While being a knight might give you great skills in combat, being a farmer would allow you the ability to farm your own food with ease. After choosing a class, you make your way across the world to survive, which might include doing things you wouldn't normally do, like stealing food from others. You can hunt for food and harvest in order to keep yourself healthy. You also might have to buy supplies like weapons, armor and houses to protect yourself not only from sickness, but from enemies driven by fear. Check out the teaser below.
The trailer doesn't give much detail into what the sickened will look like or act like, nor on any in-depth gameplay, but it is reassuring that the map will be open-world and exploration based. I'd like to know exactly what happens if and when you do get sick. Do you actually go through the stages of the black plague or is it an instantaneous death? Basically, how gruesome is this game going to get? Will the threat of death turn people against each other or will you band together with others to fight for survival?
The Black Death will be available on Steam Early Access in March, so mark your calendars.
Your Daily Blend of Entertainment News
Thank you for signing up to CinemaBlend. You will receive a verification email shortly.
There was a problem. Please refresh the page and try again.