Free Xbox Live Sports Weekend With Free Gold Membership Giveaway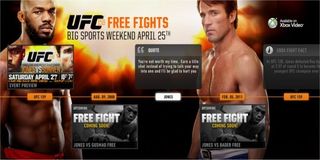 Microsoft is really, really trying to win back gamers as they ratchet up positive press leading toward their May 21st press conference to unveil the next generation Xbox console. This means that they're dolling out free Xbox Live on the weekends and giving away free XBL Gold passes to gamers.
In addition to a free Xbox Live weekend, there are free sporting events being made available to both free and Gold members. It's almost like getting a free weekend of pay-per-view without any strings attached just without the actual pay-per-view...and the best part about it is that the event gets underway starting today!
As detailed in the press notice...
A big sports weekend indeed, and it started a day early!
This is exceptional news for Xbox gamers who may have grown financially tired of XBL Gold due to the subscription fees or are looking for a little bit of reinvigoration leading up to the much-needed fanboy press coverage to spread the word about the new Xbox come May 21st.
The real question will be if this free promotional marketing tactic will work or has Adam Orth and the #DealWithIt campaign cemented in some irrecoverable marketing damage? I mean, there's probably a lot more people out there turned off with the next-gen Xbox just based on the always-on and anti-used game setup that has been circulating through the media for the past year.
Nevertheless, you can learn more about Microsoft's campaign to win you back over with their free XBL weekends by visiting the official website (opens in new tab). Also, stay tuned in on our Facebook page for a free code to receive an entire month's worth of Xbox Live Gold.
Your Daily Blend of Entertainment News
Staff Writer at CinemaBlend.
Your Daily Blend of Entertainment News
Thank you for signing up to CinemaBlend. You will receive a verification email shortly.
There was a problem. Please refresh the page and try again.