Fruit Ninja Kinect Hits 1 Million Downloads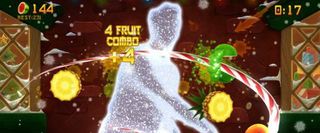 Xbox 360 owners have welcomed Fruit Ninja Kinect with open arms. Since the game's debut on Xbox Live Arcade last August, it has racked up over a million downloads.
"Hitting 1 million downloads for XBLA is an awesome achievement," said Phil Larsen, chief marketing officer at Halfbrick. "It's a milestone that proves how with the right team and vision, a mobile game can be expanded into a much bigger franchise across new platforms and markets and be wildly successful!"
In Fruit Ninja, pieces of fruit fly across the screen and players must slash them. They receive bonus points by slicing more than one fruit with a single attack. Players must be careful not to slash any bombs, though. The game is playable in three modes - Classic, Zen, and Arcade - and also supports multiplayer.
The success of the Kinect version of Ninja should be no surprise. As of last March, the mobile version racked up over 20 million downloads. That milestone was hit less than a year after the game's debut on iPod Touch and iPhones.
You can download Ninja through XBLA for 800 MS Points, or $10.
Image 1 of 3
Image 2 of 3
Image 3 of 3
Staff Writer at CinemaBlend.
Your Daily Blend of Entertainment News
Thank you for signing up to CinemaBlend. You will receive a verification email shortly.
There was a problem. Please refresh the page and try again.