GRID 2 Mono Edition Is Most Expensive Video Game Ever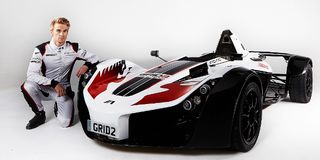 If you're looking to buy a new car and GRID 2, you can get both in one fell swoop. The GRID 2 Mono Edition, priced at £125,000 (or $188,850), comes with a copy of the racing game as well as a BAC Mono supercar.
The BAC Mono is a British supercar that also appears in GRID 2. The carbon fibre vehicle is capable of going from 0-60 mph in 2.8 seconds. Believe it or not, it's road-legal too.
Should you purchase the one-of-a-kind Mono Edition, you'll be able to spend a day at the BAC factory. After touring the facilities, you'll sit down with technicians to customize your Mono. Your custom Mono will be outfitted with exclusive GRID 2 livery, and also come with matching race gear. I'm not sure why I'm telling you this like you're going to buy it.
The copy of GRID 2 is for the PS3. If you don't have a PS3 - you own thousands, my dear Sheikh - you'll be pleased to learn that the bundle also includes the console. They don't mention what kind of PS3 it is. I doubt they'd dick you over on the hard drive after you dropped 188 grand on a car, though.
You'll have the opportunity to buy this Mono Edition when GRID 2 launches next week. If you decide to wait a year or two, though, you could probably find the car parked in a GameStop bargain bin with a $50,000 price tag.
Image 1 of 5
Your Daily Blend of Entertainment News
Staff Writer at CinemaBlend.
Your Daily Blend of Entertainment News
Thank you for signing up to CinemaBlend. You will receive a verification email shortly.
There was a problem. Please refresh the page and try again.