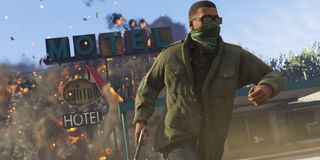 Rockstar Games has been sued once again over Grand Theft Auto V. This time the plaintiff is Karen Gravano, former star of the VH1 reality show Mob Wives.
Gravano's lawsuit alleges that one of the game's characters is based on her life story. The character in question is Antonia Bottino, daughter of a former Gambetti crime underboss named Sammy Bottino. She's about to be buried alive by gangsters when the player rescues her.
Bottino then fills in the player on her past. Her father was an East Coast gangster who went into hiding after being framed for murder. The authorities eventually caught up with him and he was forced to snitch on his former associates to avoid jail time. The attack on Antonia was revenge for his plea bargain.
The story of Sammy Bottino seems at least loosely based on Gravano's father, Sammy "The Bull" Gravano. Sammy Gravano was an underboss in the Gambino crime family who testified against former boss John Gotti to reduce his own jail sentence. Like Bottino, Gravano relocated to the southwest.
GTA 5 also makes some passing mention of Mob Wives. Sammy Gravano doesn't want his daughter to appear on Wise Bitches, an obvious parody of the show.
"Notwithstanding the fact that plaintiff has the utmost respect for the writers and creators of the Grand Theft Auto V video game…her story is unique and is hers to tell," reads the lawsuit filed by Gravano's lawyer (via NY Daily News). It also mentions that Rockstar could have asked for her permission "with relative ease, which may have (averted) this action."
Gravano's lawsuit sounds more convincing than Lindsay Lohan's suit, which was basically just "DURR DURR YOU HAD A BLONDE GIRL IN YOUR GAME GIVE ME MONEY." Still, I don't think this latest case has a chance, either. Both Karen Gravano and her dad are public figures and are fair game to be parodied. Rockstar could also just deny that the Bottinos are inspired by the Gravanos as there are significant differences between the two families' stories.
Gravano is seeking $20 million in compensation. She also wants another $20 million in punitive damages because $40 million is more than $20 million.
GTA 5 debuted in September of last year and hit $1 billion in sales within the first three days. The game sold around 30 million copies by the end of 2013. It's probably not a coincidence that they're a popular target for lawsuits.
Speaking of frivolous GTA 5 lawsuits, did you know that Rockstar got sued for launching GTA Online two weeks after the base game? That lawsuit was dismissed a month ago.
Your Daily Blend of Entertainment News
Staff Writer at CinemaBlend.