GTA 5 Online Infinite Money Exploit Forces Rockstar To Disable Creator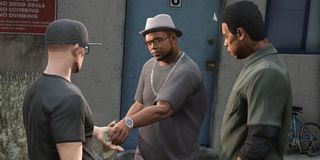 Update: Rockstar has brought the Content Creator back online.
Original article: If you're having trouble accessing the GTA Online Content Creator, you're not alone. Rockstar has deactivated the feature in order to stop a game-breaking bug.
"Access to the GTA Online Creator has been temporarily disabled to stop the spread of a new exploit," Rockstar said on their Support page. "If you would like to receive an automatic email notification as soon as there is more information about when the Creator will be available, please log into the Support Site and click Subscribe at the top of this page.
"We apologize for the inconvenience and are working to make the Creator available again as soon as possible."
The exploit in question was a doozy. It allowed players to use the Content Creator to buy everything in GTA Online at no cost. A forum post on Se7enSins published earlier today ran through every step in the exploit:
Fortunately the exploit requires the Content Creator so disabling that feature makes it impossible for players to keep using it. As you can see from the steps above, though, taking advantage of the bug wasn't exactly rocket science. It requires much less time and effort than previous money exploits.
I suspect a lot of players went on shopping sprees before Rockstar could plug the hole. I sincerely hope they have some way to remove all of the free purchases that the exploiters made. Cash is the main means of progression in GTA Online so players buying up everything for free severely imbalances the game.
Rockstar hasn't said when the Creator will be reactivated. In the meantime, players can't build new Jobs. That's a damn shame, considering the fact that Rockstar just added Capture mode support to the Creator.
The other unfortunate side effect of this exploit is that it could delay the release of new content. Rockstar is currently finishing up the High Life Update, filled with new items for players to buy.
Your Daily Blend of Entertainment News
Staff Writer at CinemaBlend.