GTA 5 Online Creator Restored, Freeze Money Exploit Fixed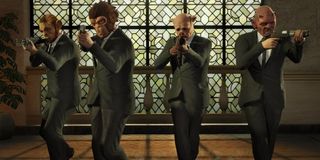 GTA Online players can once again create custom multiplayer jobs. Rockstar has restored the featured a day after deactivating it.
"Access to the GTA Online Creator is once again available," the company announced on the Rockstar Support site. "Thanks for your patience and understanding."
Rockstar took down the GTA Online Content Creator yesterday when they learned of a new "freeze money" exploit. This exploit allowed players to purchase anything in the game without spending any of their character's cash. The bug was accomplished by creating and then abandoning a deathmatch. Here's a video showing how they did it:
Players actually found a way to use the Creator in spite of the shut-down. This allowed them to keep using the money freeze exploit. Various videos showing that loophole are also on YouTube. Here's an example:
However, Rockstar has now apparently fixed whatever bug in the Creator was allowing players to buy everything for free.
Rockstar hasn't said what they'll be doing about all the players who purchased mounds of items through this exploit. There's likely a lot of offenders out there. As I said yesterday, the cheat was extremely easy to perform so everyone who wanted to use it could do it within minutes. Plus, the details on the cheat were all over YouTube, Reddit and other social networks within hours of it first being discovered.
At the very least, Rockstar will probably try to remove these illegal purchases from the game. They were able to remove large quantities of ill-gotten cash in the past so maybe they have ways of tracking items bought through this exploit as well. Rockstar has also banned cheaters or placed them in a cheaters-only pool for matchmaking due to previous exploits. Perhaps we'll see them use those sorts of measures again soon.
Either way, I doubt this is the last battle we'll see between Rockstar and GTA Online cheaters. If a group of players is intent on finding ways to break your game, they're going to occasionally get lucky. Cheaters have gone to ridiculous lengths in the past to get "easy" money. At this point, cheating is probably a game-within-a-game. All Rockstar can do is keep an ear to the ground and pounce on exploits as soon as they're discovered.
Your Daily Blend of Entertainment News
Staff Writer at CinemaBlend.