GTA Online Microtransactions Worth $100 Million Per Year?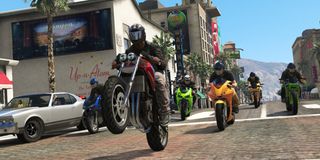 Grand Theft Auto V already set numerous sales records last fall but its true earning potential has yet to be tapped, according to Sterne Agee analyst Arvind Bhatia. He believes that the game's multiplayer, GTA Online, could earn Take-Two Interactive over $100 million per year.
GTA Online allows groups of players to run amuck in Los Santos and Blaine County together. They can participate in missions (Jobs) in order to earn money for better equipment. The game also gives them the option of purchasing this in-game money (GTA$) by spending real-world cash.
While GTAO has been available since October 1st, its launch was marred by bugs. Many players couldn't get past the opening tutorial or even connect to the servers. Developer Rockstar Games disabled the sale of GTA$ until they stabilized the game. While some players no doubt gave up on GTA Online because of the bugs, Bhatia believes that interest in this multiplayer mode is still high. This interest could mean big money for Take-Two and Rockstar.
"Considering the success of other free-to-play micro-transaction based titles such as FIFA Online, Battlefield Premium etc., we think GTA Online has the potential to generate annual revenue of $100M+."
The estimate doesn't sound outlandish on first blush. There's a large pool of potential customers for GTA$. Total sales for GTA V are around 30 million and Bhatia believes they could hit 33 million by March 31st. In order to hit $100 million, five million players would need to spend an average of $20 over twelve months.
GTA Online's sales potential depends on Rockstar's continued support, though. They need to keep releasing free content in order to keep players interested and spending money. The toolset they released to let players build and share missions was a great move on that front. Players who are designing missions are essentially doing Rockstar's work for them. The developers will need to keep expanding the toolset's features though so players don't exhaust its possibilities.
The developers also need to clamp down on bugs quickly. Infinite money glitches flooded the game with free cash not long ago. No one's going to buy GTA$ if they can get millions for free. They also won't spend money if the servers are laggy or down.
While Bhatia focuses on the untapped potential of GTA Online in his analysis, there are two other ways that I think GTA 5 could make big money in 2014. The first is the premium, single-player DLC that Rockstar's developing. This new content could lure back many former players to GTA V, and maybe inspire them to play GTA Online again too.
There's also the possibility that Rockstar will release Xbox One, PS4 or PC versions of GTA 5 in 2014. There have been subtle clues that the studio's working on them right now but they've yet to announce anything. There's a clear demand for the game on those platforms. It's money waiting for Rockstar to grab it.
Take-Two could reveal more of Rockstar's plans for 2014 in the coming days. The company plans to announce their latest earnings report on Monday, February 3rd at 4:30PM Eastern.
Your Daily Blend of Entertainment News
Staff Writer at CinemaBlend.