GTA 5 Online Cheaters Will Be Banned, Free Money Removed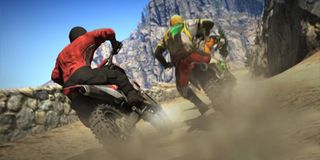 GTA Online players who exploited the game to get mounds of free cash will be punished soon, Rockstar says. In the meantime, they're removing all of the bogus money from the game.
Cash is one of the main means of progression in GTA Online, the multiplayer for Grand Theft Auto V. Players complete jobs to earn GTA$ that can be spent on new cars, weapons and apartments. Purchases are restricted by your level but flooding the game with easy cash still removes a principal grind.
A few people running around with heaps of money is bad enough. However, some cheaters compounded the problem by giving their money to other players, even if they didn't ask for it.
Rockstar took the game down for maintenance last night in order to remove the money created by exploiters. They're planning to penalize these players soon as well.
"Anyone who innocently received GTA$ as a result of these exploits but did not engage in cheating to acquire it will not face any further action - the funds will just be removed, and you'll be able to keep any items you currently own," Rockstar said on their official newswire. Those who actively engaged in cheating and exploiting the game in this manner will, however, be subject to in-game penalties at our discretion. This may include being placed in isolated cheater pools or banned from GTA Online altogether."
The developer asked players to help them track down troublemakers in the game. If you're in a session with a cheater, you can notify Rockstar directly through the game. To do so, go to the list of players in the Pause menu, under the Online tab. Then select "Report" and choose "Exploit" from the list of reasons.
"We're grateful for the community's continued support in dealing with these issues and once again apologize to anyone that has had their Grand Theft Auto Online experience sullied by these exploits that broke the game's natural flow. Please stay tuned for lots more news about GTA Online in the weeks ahead."
GTA 5 notched stellar reviews and record-breaking sales but its online component isn't as beloved. Money exploits are just the latest headache. GTA Online was unplayable at launch due to bugs and overcrowded servers. Once players were actually able to log in and try the jobs, they found that their progression was periodically wiped by glitches.
While GTA Online's first few months have been iffy, there have been some bright spots too. Rockstar has been released free content for the mode, including a Beach Bum Pack and Capture mode. They also added a toolset to let players build custom jobs and share them with others. I'm sure they'd get more credit for these things if the game wasn't dogged by so many other issues.
Your Daily Blend of Entertainment News
Staff Writer at CinemaBlend.