Gamers May Be Heading Back To Nuketown In Newest Call of Duty Game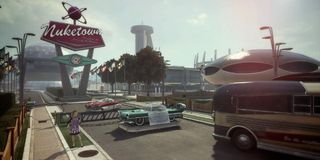 Call of Duty: Black Ops 3 may be getting an important piece of Call of Duty history in the form of Nuketown, a map that's been seen in several iterations of the game in the past.
GameSpot reports that the multiplayer map may well be rearing its head once more, according to a listing for the Digital Deluxe version of the game found by an eagle-eyed fan site on the Brazilian PlayStation Network. The fan site, MP1st, noticed references to a "NUK3TOWN" map that players would get with the special digital edition.
This is new information, but definitely welcome, despite the fact that since the news has spread like wildfire across the internet. It's as if someone doesn't want us knowing such information. Hmm, indeed! Obviously it'll likely be available now at some point in the future, possibly as part of some promotion or a DLC pack that players can add onto their game. So there's no definitive information just yet on who'll be able to access the map or how to get to it yet.
Nuketown originally was found in the first Call of Duty: Black Ops game, and it was an ingenious addition to the blown-out villages and favelas of games past. Taking place in what seems like a suburban neighborhood that had been abandoned for some eerie reason (probably nuclear testing, of course) it was one of the most attractive multiplayer options for its fake people in the model home and other quirky aspects that were so much different than the other maps available.
While the map has made other appearances in games like Black Ops 2, it was also up or grabs for those who preordered the launch copy of the game and in Black Ops 2's Zombies game mode. It's one of the most enjoyable multiplayer experiences I've seen, aside from all the fun I had with Call of Duty 4: Modern Warfare back in the day. Those were some of the greatest nights of my life as a gamer.
Black Ops 3 had its public beta recently for PlayStation 4 users only, but the Xbox One and PC beta test is going on right now, so if you're interested in and seeing how the seedy underbelly of the Black Ops 3 multiplayer actually works, you can get in right now if you've got one of those platforms. Or you can wait for the game to release proper on Xbox One, PlayStation 4, PC, Xbox 360, and PlayStation 3 on November 6.
Your Daily Blend of Entertainment News
Your Daily Blend of Entertainment News
Thank you for signing up to CinemaBlend. You will receive a verification email shortly.
There was a problem. Please refresh the page and try again.