Ghostbusters App Scaring Up Fun On iOS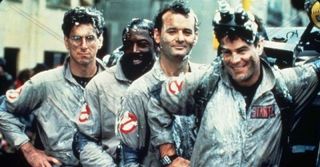 Now you can answer the proverbial question, "who you gonna call," on the go as Beeline Interactive, Inc. and Sony Pictures Consumer Products announce the release of Ghostbusters for iPad, iPhone and the iPod Touch.
Going for the low-low price of just zero dollars, Ghostbusters for iOS offers resource management and strategic combat in a game set within the same world as the hit films.
"The game puts players in charge of their own Ghostbusters franchise," reads a statement from Beeline Interactive. "From their firehouse headquarters, players will send their team of spook slayers out into New York city to stop troublemaking spirits in their tracks. They'll also make their way up floor after floor of a haunted tower, which has been overtaken by an evil deity."
Utilizing such trademark equipment as proton packs and spirit traps, players will earn rewards for successfully taking down a floor's roaming ghosts. These rewards can then be used to conduct research and upgrade equipment, making it possible to take on even tougher spirits. You'll also be able to hire new recruits and expand your operations along the way, sending out squads to take on ghosts all over the city on your quest to put wandering haunts back in their place.
Mixing a classic film series with the popular simulation adventure genre seems like a winning combination in my book. And then there's that asking price of $0, which makes it even more appealing to take Ghostbusters for a spin on iOS. If that seems like a good plan to you, you can download the game now on iTunes (opens in new tab).
Staff Writer for CinemaBlend.
Your Daily Blend of Entertainment News
Thank you for signing up to CinemaBlend. You will receive a verification email shortly.
There was a problem. Please refresh the page and try again.