Giveaway: Dead Island For PC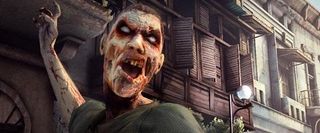 This September, Techland will release their open-world horror game Dead Island. Your trip to the zombie-infested island of Banoi might not cost you a cent, though. Gaming Blend is giving away three copies of the PC version of Dead Island to our readers.
The free copies are supplied by Green Man Gaming (opens in new tab), a UK-based digital gaming store that launched last year. If you don't win our giveaway, note that you can still pick up games on the cheap through their shop. They've got a 15% discount on all major PC releases (opens in new tab) this summer. They're also offering a 20% off voucher for any item on the site (voucher code: SUNNY-SAVER-20PEC). These discounts allow you to get Dead Island (opens in new tab) for £23/$33 and Deus Ex: Human Revolution (opens in new tab) for £24/$34.
Each free copy of Dead Island will come with free Blood Bath DLC, which adds four Arenas in which you must fend off endless waves of undead. These Arenas can be played in single-player or co-op modes. The XP and items you earn carry over to your campaign. The DLC also unlocks the Sonic Pulse Grenade, which sounds messy.
For a chance to win Dead Island, leave a comment on Gaming Blend's Facebook page. Any old comment will do. Entries will be accepted until 6 PM EST on Tuesday, August 16th. After that, we'll choose three winners and then send them voucher codes for Dead Island.
Once you've got a winning code in hand, head over to Green Man Gaming (opens in new tab), create an account, and buy the game using the code. You'll get an email confirming your purchase. A second email will be sent out once the game launches, which should be on September 6th in North America and on the 9th in PAL territories.
Staff Writer at CinemaBlend.
Your Daily Blend of Entertainment News
Thank you for signing up to CinemaBlend. You will receive a verification email shortly.
There was a problem. Please refresh the page and try again.