Gotham City Impostors Has 100 Pieces Of DLC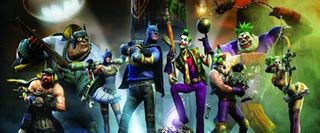 With its launch taking place tomorrow for the Xbox 360, Gotham City Impostors already received a hefty helping of downloadable content. No worries, though, the 100 pieces of DLC are all optional and all cosmetic.
According to XBLA Fans, Monolith Games confirmed that the DLC is just there for those who don't have the time to naturally unlock all the content in the game the natural way, saying "You can still unlock the stuff as you did in the beta, but you can also purchase. Your choice!"
That's good news for those of you who thought Monolith was going to pull a free-to-play scheme where you bought the game and then had to pay out for the extra DLC in order to "complete" the game. The other good news is that all of the parts, every single one of them, are only cosmetic. This means that there's no such thing as "paying-to-win" as it's so often called in the F2P arena.
You can actually purchase the DLC for Gotham City Imposters right now, ahead of its launch tomorrow. Each of the content pieces ranges from 80 to 320 MS Points, while complete costume sets will run at 600 MSP. Remember, though, all this stuff is still unlockable by natural player progression, so it's no points off your back if you decide to do things the right way and unlock the pieces simply by playing.
Gotham City Imposters is set to launch on February 8th for 1200 MS Points on Xbox Live Arcade and it's currently available today for $14.95 on the Sony Entertainment Network.
Your Daily Blend of Entertainment News
Staff Writer at CinemaBlend.
Your Daily Blend of Entertainment News
Thank you for signing up to CinemaBlend. You will receive a verification email shortly.
There was a problem. Please refresh the page and try again.