Gray Matter, Black Mirror 2, Black Mirror 3 Get North American Release Dates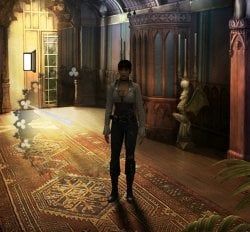 A couple of popular PC adventure titles from European publisher dtp Publishing will be making their way across the pond and over into brick and mortar retailers as well as digital e-tailers for North American audiences thanks to Viva Media. Gamers keen on putting their thinking caps on and solving murders, crimes and mysteries the old fashioned way (with a few clues and some dramatic conversation) will be pleased to know that Gray Matter, Black Mirror 2 and Black Matter 3 will be arriving stateside during the first-quarter of 2011.
Viva Media CEO Carlo Voelker commented in the press release, saying…
Gray Matter will be made available in North America for $29.99 starting in February, alongside Black Mirror 2, which will retail for $19.99. Black Mirror 3 will become available starting in March for the budget price of $19.99.
You can check out the system requirements for all three games below:
Gray Matter system requirements:
Intel Pentium IV 1.6 GHz processor or similar,
512 GB of RAM, Windows XP / 1 GB of RAM Windows Vista/7,
DirectX 9.0c (Shader 2.0) compatible graphics card with 128 MB of RAM (recommended 256 MB),
DirectX 9.0c compatible (16 bit) sound card, Windows®XP, Windows Vista or Windows 7,
Approximately 6 GB of free hard disk space, DVD-ROM drive, keyboard and mouse.
Black Mirror 2 & 3 system requirements:
Intel Pentium IV or equal processor with 1,4 GHz (Intel Dual-Core or equal processor with 2,0 GHz),
Windows XP with 512 MB RAM (Windows Vista x32/x64 with 1GB/2 GB RAM),
128 MB Graphics card like ATI Radeon 9800 or NVidia GeForce 6800 with Shader 2.0 (like: ATI NVidia GeForce 7000 Series with 256 MB and Shader 3.0),
directx 8 (9.0c) compatible sound card,
6GB Hard drive space on DVD-Rom-drive, keyboard, mouse, speakers.
Staff Writer at CinemaBlend.
Your Daily Blend of Entertainment News
Thank you for signing up to CinemaBlend. You will receive a verification email shortly.
There was a problem. Please refresh the page and try again.