Halo 3 Launch Event In Select Cities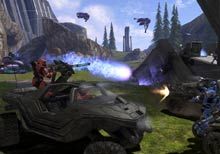 Myself, I've never been much of a Halo fan, but I'm sure some of you are willing to tear the head and balls off of your next-door neighbor's dog over the prospect of stepping under Master Chief's visor once again. If you're one of those ball-tearing oddballs, and happen to live in either Seattle, New York, Los Angeles, or Miami, you'll probably want to make it out to one of the following locations on September 25th when the game finally hits stores. In addition to actually selling you the most over hyped game of all time, Microsoft has a slew of fun activities planned for the release at the locations below. Most of them involve a chance to win some Halo 3 contests and meet with members of the design team.
Also, it appears that a bunch of professional athletes are going to be at 75% of these locations for some unspecified reason...probably to beat up all the geeks like me who would call Halo 3 names like "derivative," "recycled," and "jocktacular." On the whole, it sounds like the events will be a lot of fun and will in no way be ruined by those individuals who are tired of FPS titles where everyone runs around in some kind of hackneyed spacesuit or spacesuit-analogue.
From Xbox.com:
Seattle
Where: Best Buy, 457 120th Ave. NE, Bellevue, WA 98005
What: Seattle fans are invited to join the celebrations at Bellevue's Best Buy, which will open its doors at 12:01 a.m. on September 25 to sell the highly anticipated and final chapter in the Halo trilogy. To commemorate the release of Halo 3 in the game's hometown, fans will be able to celebrate the occasion with product giveaways. People in line may also get a chance to play against Bungie team members and local professional athletes.
New York
Where: Best Buy, 529 5th Ave., New York, NY, 10017
What: Located in the heart of 5th Ave. and only a few blocks from Times Square, the Best Buy store on the corner of 5th and 44th Ave. will be the first to provide consumers in the U.S. with their copies of Halo 3. The event, which will begin early afternoon on Monday and can be seen on televisions nationwide via live broadcasts from both Spike TV and G4, will feature day-long activities. People are encouraged to demonstrate their fanaticism for Halo through costumes, distance traveled, best signs, and more. Additionally, fans in line may get to play Halo 3 prior to launch against on-site celebrities from early Monday afternoon through midnight. Every hour, a new personality will enter the fray with the fans. At midnight, attendees can expect a spectacle unlike any other. A number of Bungie team members and local professional athletes will be on hand to participate in the launch festivities.
Los Angeles
Where: GameStop, 1000 Universal Studios Blvd., Universal City, CA 91608
What: From the entertainment capital of the world, GameStop's flagship store at Universal CityWalk in Los Angeles will host the Halo 3 West Coast launch. The event begins Monday evening and will lead up to the first sale of the game at 12:01 a.m. Tuesday, September 25, and will feature a celebrity autograph session, Halo trivia contest and a special appearance by the man of the hour, Master Chief, as well as a number of Bungie team members. Fans in line will also have a chance to be one of the lucky few who can battle it out against a celebrity on Halo 3 prior to the launch. The event can be seen on televisions nationwide via live broadcasts from both Spike TV and G4.
Miami
Where: Circuit City, 8575 Northwest 13th Terrace, Miami, FL 33126
What: Hosted by Circuit City, Miami's Midnight Madness event of choice will feature product giveaways and contests starting at 9 p.m. Monday. Current Miami Dolphins stars Chris Chambers and Joey Porter will be on hand signing autographs as well as challenging fans in Halo 3 inside Circuit City. Additionally, a number of Bungie team members will be on hand to participate in the launch festivities.
Your Daily Blend of Entertainment News
Thank you for signing up to CinemaBlend. You will receive a verification email shortly.
There was a problem. Please refresh the page and try again.