Halo 3: ODST Pre-Order Bonus And Screenshots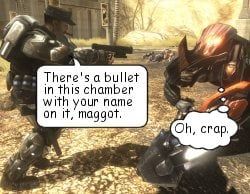 Microsoft recently announced that a new pre-order package is ripe and awaiting credit cards for Halo 3: ODST. So what's so special about this new pre-order bonus for one of the most popular franchises in the history of gaming? Well, you get to play as the foul-mouthed, hard-as-bricks Sgt. Johnson.
According to the press release, "Fan favourite and "Halo" series stalwart Sergeant Avery Junior Johnson is a tough-as-nails career Marine who has been in more life or death battles than you've had hot meals. He's survived more infectious Flood outbreaks, greased more Covenant bad guys, and earned more medals than any other twenty soldiers. And now you get to walk a mile in his shoes."
As stated on Electronic Theatre, at select retailers, when pre-ordering Halo 3: ODST, gamers will receive a token that can be used to unlock the UNSC veteran, Sergeant Johnson. For the most part, that's all you get as a pre-order bonus. It's a little lame, I know. But honestly, what else could you possibly get out of a series that has been milked of pretty much all its originality?
Anyway, Halo 3: ODST hits retailers on September 22nd, exclusively for the Xbox 360. The game will feature a full-on single-player campaign mode that takes an alternate look at the storyline from an Orbital Drop Shock Trooper's perspective, as well as offer gamers a whole new multiplayer experience for both on-line co-op play and on-line deathmatch.
Now all purchases of Halo 3: ODST will guarantee a spot in the Halo: Reach multiplayer beta. The game is set for release in the fall of 2010…conveniently around the time Natal is supposed to be launching…hmm. Anyway, you can check out some new screenshots of H3: ODST, below and remember to stay tuned in with Blend Games for more updates, news, info and insight on all things gaming.
Image 1 of 3
Your Daily Blend of Entertainment News
Staff Writer at CinemaBlend.