Halo Reach: Deliver Hope - Making Of Video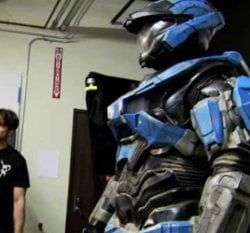 Have you ever wondered how they construct those unbelievably awesome live-action trailers for promoting Halo games? Well, here's a first look at the "Deliver Hope" making of video. It shows how the armor was constructed, how the weapons were constructed and how the actors were fitted to look like legendary heroes.
The four-minute long video doesn't really go as in-depth as some of us may have hoped, but for those who were simply curious how it was done in a general sense, well then the short making of documentary certainly fulfills in that avenue.
It's also nice to know that much of what was filmed for the short film was done using a lot of old-school tech and wasn't all CG (thank goodness). This is one of the things that always gave the Halo live action shorts a feeling of authenticity…the reliance on real-world mechanics rather than just dumping it all in 3D and rendering the heck out of it.
You can check out the impressive behind-the-scenes making of video for "Deliver Hope" for Halo Reach below, or read up on the review of the game to find out if it's worth buying.
Your Daily Blend of Entertainment News
Staff Writer at CinemaBlend.