Halo: Reach Limited Edition, Legendary Edition Announced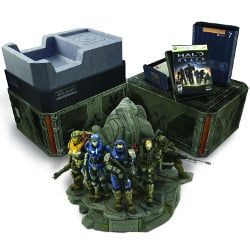 There will be two ways to express your extreme devotion to Halo: Reach this fall. Bungie announced both a Limited and Legendary edition of the game.
The Limited Edition is priced at $79.99 and contains the following extras:
Game disc housed in recovered ONI "black box"
An exclusive Elite armor set for use in multiplayer modes
Artifact bag containing Dr. Halsey's personal journal and other classified documents and effects that unravel long held secrets from the "Halo" universe
The $149.99 Legendary Edition comes with everything in the Limited Edition, as well as these items:
Noble Team statue expertly crafted by the artisans at McFarlane Toys. Individually molded, hand-painted and individually numbered, this statue is a must-have for any serious "Halo" fan
UNSC-themed custom packaging
An exclusive multiplayer Spartan armor effect
Both editions are now available for pre-order at select retailers throughout the world.
Image 1 of 2
Image 2 of 2
Staff Writer at CinemaBlend.