Here Are Some Assassin's Creed Unity Workarounds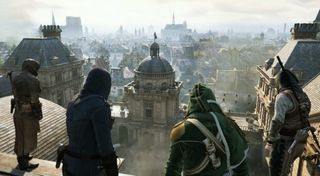 One of the biggest clusterfunks to happen earlier in the week was a little something called the "launch of Assassin's Creed Unity". The launch consisted of one of the most anticipated AAA games landing on the market and stumbling around worse than a drunkard at a square-dancing party. Well, Ubisoft has a few tips on how to get the game to function the way it was supposed to at launch.
Blues put together a compilation of current happenings surrounding Assassin's Creed Unity and a few troubleshooting tips to help gamers resolve some serious problems plaguing the open-world assassination game.
There's a list of what Ubisoft plans to fix, has fixed and what's still essentially in the code-bonkers trash-bin. Check it out below.
* Can't launch the game – ACU.exe - WORKING ON IT
* Arno can fall through ground when free running on various props or when dropping down on to an NPC - FIXED
* Arno to get stuck in a hay cart next to the Pantheon in the Bièvre district. - FIXED
* A game crash when joining the co-op session of another player who has a specific single player and side missions progression. - FIXED
* Some Crashes might occur - WORKING ON IT
* Please reach out to our support to ask a question and get support
* Getting stuck when launching the game - WORKING ON IT
* Slow downloads on Uplay PC - FIXED
* Helix Credits Issues - FIXED
This is really unacceptable. "Getting stuck when launching the game – WORKING ON IT"? Really? Some people paid $60 and they can't even launch the game? It's a very sad thing. While yes, gaming has evolved and enables publishers to "patch on the fly", the biggest problem is that they're patching on the fly instead of releasing a working product at launch.
There's a massive list of problems that Ubisoft has detailed on the thread for all the platforms that the game is available on. They've managed to fix a few of the issues across all the platforms. They've also fixed a majority of the PS4 exclusive problems and none of the Xbox One specific problems.
The biggest of all the problems is the frame-rate issues. According to the Ubisoft thread they're absolutely working on it and the "player experience manager" notes that there is a workaround that players attempt to use as a placeholder for the terrible frame-rate...
There are also some people having serious issues with matchmaking. Of course, you will have to enable your Wi-Fi or internet connection to play multiplayer (which would then bring back the frame-rate issues) but here is the current workaround to get matchmaking working...
It's such a shame because the game seems like it could have been all right if it wasn't plagued with the launch day blues.
Funnily enough, there haven't been as many complaints about Assassin's Creed Rogue, the Xbox 360 and PS3 outing that released alongside with Assassin's Creed Unity. If Ubisoft doesn't get Unity fixed in time they could be looking at a very damaged reputation as a publisher, moving forward.
We'll see how well they handle Far Cry 4 on November 18th and whether or not they suffer the same problems with that game, too.
Staff Writer at CinemaBlend.