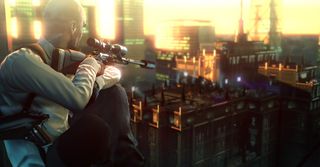 Square Enix might be creating another downloadable Hitman game. The UK office of the publisher has filed a trademark for the title Hitman: Sniper Assassin.
The trademark filing, performed on February 1st, applies to "online entertainment services," "downloadable computer games software," "electronic games for mobile phones" and other related products. A similar filing was made in the UK late last year.
Sniper Assassin is presumably a follow-up to Hitman: Sniper Challenge. Challenge was a standalone game in which Agent 47 had to perform a hit with a sniper rifle. They had to eliminate a weapons manufacturing company CEO and his bodyguard. The player's score was then uploaded to a global leaderboard.
Sniper Challenge was designed to promote Hitman: Absolution, the new installment in the main console/PC Hitman series. Challenge was free for gamers who pre-ordered Absolution. Furthermore, playing this standalone sniper mission could unlock weapons for Absolution's campaign. Is Sniper Assassin going to be used as a promotional tool for the next big Hitman, or is it being released for its own sake?
As mentioned above, the trademark does apply to mobile games. It could be that Square Enix is expanding the franchise into the iOS or Android markets. I don't think mobile devices' touchscreen would work too well for a full-fledged Hitman game but it can definitely handle something as simple as sniping.
Square Enix Montreal is currently working on the next Hitman. Moving forward, they're going to tag-team the series along with Hitman creators IO Interactive.
Your Daily Blend of Entertainment News
Staff Writer at CinemaBlend.