How Activision Convinced Kevin Spacey To Join Call Of Duty: Advanced Warfare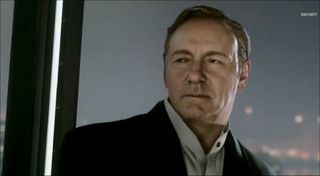 One of the biggest surprises for this year's Call of Duty outing was the revelation that Kevin Spacey would be starring in the game as the main antagonist; a villainous, corporate mercenary who runs a privatized military outfit that sells their services of "war" to the highest bidder. It's an interesting role, even summed up in the short span of a short paragraph. However, it doesn't matter how interesting a role is in the world of interactive entertainment, there's usually a pretty big divide between the Hollywood media machine and the video game space. So how did Activision bridge that gap to gain the attention of Kevin Spacey?
Well, landing an A-list celebrity for role in the upcoming Advanced Warfare was no easy task. Activision, nevertheless, had a vision for the role and a vision to see the two-time Academy Award winning actor spearhead the cast of the upcoming first-person shooter.
Speaking with the Examiner, Activision's CEO Eric Hirshberg explained the company's intention to raise the bar with the upcoming FPS outing, saying...
We managed to see Spacey ever-so-briefly in a video detailing the technology behind Advanced Warfare, and we also managed to see bit more of his performance in another trailer that focused on the game's story of power and corruption.
Hirshberg also goes on to explain how Activision managed to acquire the services of such an established thespian such as Kevin Spacey, a name that has been attached to some of the biggest and most culturally relevant movies over the past few decades, from The Usual Suspects to L.A. Confidential to House of Cards, you don't really get more prestigious than Kevin Spacey unless you bring up Meryl Streep. According to Hirshberg, they had considered some other actors and actresses for the role, but Kevin Spacey was always their numero uno...
I imagine the 20 plus million potential consumers and $1 billion dollar revenue figure helped convince the A-lister, in addition to the fact that Spacey has been experimenting with all sorts of different kinds of platform delivery for the craft of acting.
Whether or not his performance is a home-run is completely up in the air, and we won't know exactly how cohesive his performance is to the rest of the game's story until the game releases this fall. You can check out the rest of the story over on the Examiner.
Call of Duty: Advanced Warfare is due for release on the Xbox 360, Xbox One, PS3, PS4 and PC starting November 11th. Sorry, no Wii U version for this year.
Your Daily Blend of Entertainment News
Staff Writer at CinemaBlend.