How To Play Games One-Handed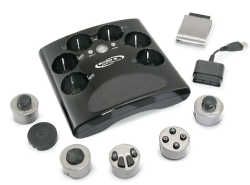 eDimensional, Inc. announced today that their new Access Controller is now available for sale. The custom controller allows PC, PS3, and PS2 gamers to play with only one hand. It's a must-have for gamers who are disabled or can't stop violating themselves.
Now that we've gotten the easy masturbation joke out of the way, let's talk about how the hell this gadget works. The Access Controller is a large pad that you lay fat on a table or desk. Each individual control function found on a PS2/PS3/PC gamepad (analog sticks, directional pad, shoulder buttons, face buttons, etc.) is built into its own circular module. You can swap the positions of these modules as needed to accommodate different game types or playstyles. If you're technologically inclined, you can even design your own custom modules for the controller (documentation provided with the controller).
Haven't the slightest clue how well this thing performs but this the first one-handed controller we're aware of so it seemed worth telling you about. You can buy the controller at eDimensional's website for $129.95. A portion of the proceeds will benefit Children's Hospital and Veterans Affairs Medical Centers, so that's cool too.
Staff Writer at CinemaBlend.
Your Daily Blend of Entertainment News
Thank you for signing up to CinemaBlend. You will receive a verification email shortly.
There was a problem. Please refresh the page and try again.