How To Use External Storage For Xbox One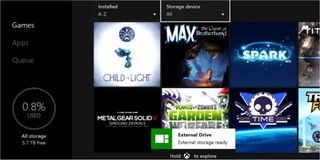 The official June update for the Xbox One will bring the ability for external hard drive support. Microsoft had previously teased an image that it was coming just two days ago, but today Larry "Major 'Flip Switcher' Nelson" Hryb managed to speak with Richard Irving from the Xbox One's engineering team, where he walks gamers through the process of using external drives on the Xbox One.
You can check out the video below, and it's all covered in a brisk minute and 30 seconds.
If you're at work and you can't watch the video or you have a potato PC, don't worry about it, we got you covered.
So if you want to use external drive support for your Xbox One, you will need USB 3.0 and 256 GB or larger hard drive. Given that the drive is external, the form factor matters very little, which is probably one of the only advantages the Xbox One has over the PS4, which also supports hard drive replacement, save it's internal instead of external.
Given that the Xbox One has limited USB slots – two, count 'em, two – you can only have two additional external drives hooked up. If you have anything else plugged into the back, you may be limited to just one external drive. So choose wisely what you have hanging out the tail end of your Xbox One.
After plugging in the formatted device you'll be able to manage the drive in the utilities and settings feature, having the ability to rename the drive to something more easily identifiable.
Now the really cool part is that you can have the external drive setup as the primary drive, which means that whenever you install games they will automatically go to the external drive. Once the external drive fills up, software and apps will then automatically spill over onto the Xbox One's internal drive. You won't have to mess with any of the drive utility features once either hard drive fills up, as the OS will automatically switch over the empty drive to use it as the primary device.
With the June update, you will also be able to manage software and game applications. So if you have about 20 games filling up your hard disk, you will soon be able to move them over to the external drive.
Given that games run from the hard disk and not the game disc, it would be very wise to get a fast hard drive with 7200rpm or higher as your external secondary (or if you plan to use it as a primary). If it's possible to use an SSD, you might want to consider it, as it could speed up access times and data storage processes exponentially. However, it won't do anything to help with the Xbox One's welfare resolution problem.
Your Daily Blend of Entertainment News
Staff Writer at CinemaBlend.