ICO and Shadow of the Colossus Collection Arrives On PS3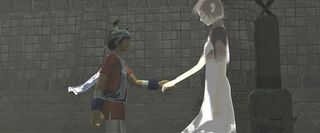 Today Sony re-released the PS2 cult classics ICO and Shadow of the Colossus. Remastered versions of the two Team ICO titles are available on a single Blu-ray disc for $39.99.
ICO and Shadow of the Colossus Collection updates both games with 1080p HD resolution. Stereoscopic 3D and 7.1 surround sound are both supported. Each game has a host of Trophies for you to earn as well.
In order to fill up the remaining space on the Blu-ray disc, Sony included a bunch of other bonus content. For starters, players will get Dyanmics XBM themes for ICO and Colossus. You can take a peek at the Team Ico's development process with a 12-minute behind-the-scenes video for ICO, Colossus, and the upcoming game The Last Guardian. The Blu-ray also has footage of a round table discussion between Ueda-san, Kaido-san, and Hosono-san. The bonus content is rounded out by concept videos for both games in Collection as well as a cancelled multiplayer project called NICO.
A launch trailer for the Collection is below. If you're unfamiliar with the games, here's a chance to get acquainted.
Staff Writer at CinemaBlend.
Your Daily Blend of Entertainment News
Thank you for signing up to CinemaBlend. You will receive a verification email shortly.
There was a problem. Please refresh the page and try again.