Impale Your Friends With Gears Of War 3 Retro Lancer Replica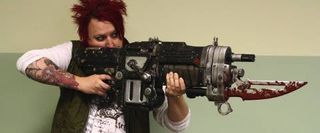 NECA has designed a 1:1 replica of the new Retro Lancer from Gears of War 3. It's available in pre-order bundles from GameStop.
The Retro Lancer, also known as the Pendulum Wars Lancer Assault Rifle, is the predecessor to the Lancer Assault Rifle. Instead of a mounted chainsaw, the Retro Lancer features a mean-looking bayonet. In GoW3, you can charge and impale unsuspecting foes. The Retro model doesn't have the long-range accuracy of its successor but dishes out more damage in close quarters.
The replica is about as realistic as a fake-ass, sci-fi gun is going to get. The rifle based on 3D data from the game's developers. It's over three-and-a-half feet long and hand-painted. Pulling the trigger will produce a machine gun sound effect.
The Lancer can be pre-ordered with the Limited, Epic, or standard edition of the game. Starting on September 13th you can purchase the $99.99 gun by itself, too. GameStop is the exclusive seller of the replica in North America. The distributors in other territories haven't been announced yet.
Image 1 of 2