InFamous: Second Son Skyrockets PS4 Sales By 106%, According To Retailer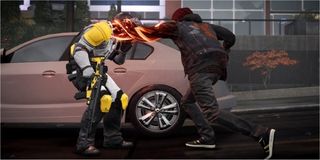 Is there any wonder about the power of Sony's marketing? Sucker Punch Studios' latest open-world, superhero action title has caused a massive upsurge in physical hardware sales for the PlayStation.
The inFamous: Second Son release has caused a massive jump up in the retail sales of the PS4, even more-so than the surge in sales from the Titanfall release not too long ago.
According to MCVUK....
As mentioned last week, Titanfall managed to boost up the sales of the Xbox One by 96% over in the UK. We didn't get any sound numbers on those stats but we did find that the boost was part of a month long surge in sales for the Xbox One leading up to the release of Titanfall.
However, the short-lived spark of sales that the Xbox One managed to pick up over in the UK was brought to a sudden and abrupt halt thanks to the PS4 being restocked and the launch of inFamous: Second Son.
Not only did the PS4 put a halt to the Xbox One's momentum, but it even managed to outdo it by blasting up in sales by 106%.
Of course, it's hard to gauge exactly where that puts the PS4 when – even as noted by observant gamers – the actual sales numbers are still a mystery for now. MCV did note, however, that the UKIE GfK Chart did let people know that out of the top 40 software titles on the market, inFamous: Second Son debuted in the number one slot. That's very impressive. It also means that it bumped Titanfall out as the king of the hill and it actually ties-into the adjacent hardware sales of the PS4.
The real question is whether or not the momentum of the sales of the PS4 will stay where it is or if it will see a massive drop-off following the release of inFamous?
Whether the game is good or not, it's Sony's AAA rival for Microsoft's Titanfall, and it's their spring release to keep the combo of new titles peppering the library of the PlayStation 4.
In between inFamous and The Order 1886, Sony still has a number of other mid-budget titles planned for release to keep gamers happy and satisfied. However, will it be enough to keep the PS4 in the spotlight when May 30th arrives?
Staff Writer at CinemaBlend.
Your Daily Blend of Entertainment News
Thank you for signing up to CinemaBlend. You will receive a verification email shortly.
There was a problem. Please refresh the page and try again.