Injustice: Gods Among Us S.T.A.R.S. Lab DLC Releasing Next Week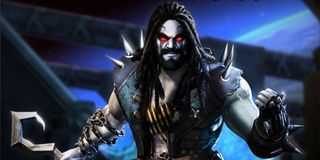 DC Comics fighting game Injustice: Gods Among Us is set to receive new content in a matter of says. NetherRealm Studios says that they're going to release a new set of S.T.A.R. Labs missions.
The S.T.A.R. Labs missions are special challenges designed to test the players' skills in new ways. In one challenge, you play as a Kryptonite-weakened Superman and need to avoid Catwoman's claws for 20 seconds. In another, Batman has to knock down escaping prisoners with Batarangs while fighting Killer Croc. They're a nice break from the usual one-on-one gameplay of Injustice and help you brush up on the fundamentals of each character. In my review of Injustice, I said it was one of the best parts of the game.
In a tweet published this morning, the company said that the new S.T.A.R.S. missions will star Lobo, Batgirl, Scorpion, and General Zod. Each will have 10 missions apiece to tackle. The DLC pack will be available on Tuesday, July 23rd.
Those four characters were the superbeings included in the Season Pass of the game. You don't need the Season Pass in order to download their S.T.A.R.S. missions. However, you'll save some money if you do own the pass:
There's no apparent discount if you purchased one or more of the characters individually, though. You'll have to pay the full price for this DLC.
Earlier this week, NetherRealm released an Ame-Comi Skin Pack. Ame-Comi is a manga-inspired series featuring alternate versions of DC heroines. This DLC provided alternate costumes for Catwoman, Wonder Woman and Harley Quinn:
The next major content for Injustice is a new character: Martian Manhunter, also known as J'onn J'onzz. The Injustice debut of this fan-favorite and core member of the Justice League of America was announced at EVO 2013 last weekend. J'onzz will be released in a Compatibility Pack along with a John Stewart skin of Green Lantern. The Stewart skin will come with new voiceover as well.
NetherRealm also released new screenshots for J'onzz, Stewart and the ladies of the Ame-Comi Skin Pack through Twitter. You can check them all out below.
Image 1 of 5
Your Daily Blend of Entertainment News
Staff Writer at CinemaBlend.