Jetpack Joyride Now On Facebook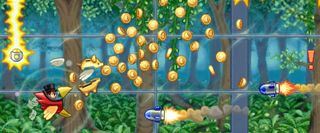 You no longer need an iOS device to enjoy side-scroller Jetpack Joyride. Halfbrick Studios has released a beta version of the game through Facebook. The test is open to all interested gamers.
"With Jetpack Joyride's success on the iOS platform, it only made sense for us to bring Barry and his mischievousness to the entire Facebook community," said Phil Larsen, chief marketing officer at Halfbrick. "The active and casual nature of Facebook gaming allows us to do even more with the beloved franchise and focus on the game's addictive competitive elements and endless replayability."
In Joyride, Barry Steakfries raids a top secret laboratory. The lab is filled with various hazards, including heat-seeking missiles and laser beams. Barry can dodge them using his jetpack or any vehicles he finds along the way.
The fast-paced side-scrolling is bolstered by a deep progression system. You earn coins by collecting them in-game or by earning achievements. These coins can be spent on gadgets or consumables that boost your performance. Coins are also the source of Halfbrick's revenue; players can pay real-world money to quickly acquire large sums of this currency.
Jetpack is one of the more entertaining free-to-play games on iOS so I think Facebook users will enjoy it. The controls are so simple that the game should translate well to this platform as well. It is a bit harder to play at work than some Facebook games, though, because you can't just tab out at your leisure.
If you want to give the Facebook version of Jetpack a whirl, head here.
Image 1 of 3
Image 2 of 3
Image 3 of 3
Staff Writer at CinemaBlend.
Your Daily Blend of Entertainment News
Thank you for signing up to CinemaBlend. You will receive a verification email shortly.
There was a problem. Please refresh the page and try again.