Killer Is Dead Screenshots Get Into A Stare Down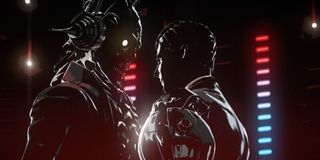 Suda 51's Grasshopper Manufacture and XSeed Games are on the full promotional campaign for the upcoming Killer is Dead, which is due out this summer for the Xbox 360 and the PlayStation 3. Some brand new screenshots have been released featuring the main character and the main antagonist engaged in a heated stare down.
Killer is Dead first came on the scene when XSeed Games announced that they would be localizing Suda 51's title for North American gamers this summer. This bit of happy news was followed by more happy news when XSeed announced that they would be localizing a total of six games for U.S. gamers' consumption this year.
Well, Killer is Dead's official Facebook page has already gone live and now these new screenshots – courtesy of the new site Geimaku – really showcase a game that seems serious about making an impact.
The game itself is about a killer of killers who is contracted to kill killers. Things get a little unsettling when the protagonist faces off against the skull-faced dude in the main image above, taking on Skullhead's cronies and having to slice, dice, cut and fatality-his way through a host of wacky, dangerous and outright strange opponents.
You can look for Killer is Dead to launch this summer for the Xbox 360 and PS3.
Image 1 of 9