Kings Of Kung-Fu Bringing Classic Movie Martial Arts To Consoles, PC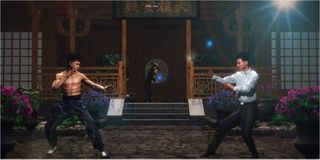 Fighting games are a rare treat these days. Only a few players are left in the big leagues, and there are so very few independent and mid-budget studios still left in the fighting game arena. While it's doubtful we'll ever get the kind of fighting-game-resurgence that had gamers binging on 2D brawlers throughout the 90s, at least with services like Steam Greenlight we'll be able to get smaller, riskier titles with which to explore our fighting game urges.
The game looks pretty good for what it is – especially to be an independent title – and it gives players an opportunity to assume the role of some legendary martial artists from the golden age of kung-fu classics.
I'm sure you're dying to see what this game looks like in action, and thankfully there's some video footage available – though, I should warn you that it's still early in development.
That's really not that bad. I can't complain too much about Jae Lee's efforts to rekindle this niche movie genre in the form of a playable video game.
The style and presentation reminds me a lot of the original Mortal Kombat (the one from the 16-bit era), which in itself was also a strong homage to the 70s kung-fu classic movie era.
As mentioned on the Kickstarter page...
I like Jae Lee's ambition here and he's absolutely right: we don't get to see many of the classic martial arts styles in video games. There's usually one silly excuse after another, but these styles helped shape our appreciation of the martial arts movie genre for ages. One of the only few companies that allowed us to explore some of the more rare styles was Mortal Kombat: Armageddon, thanks to the very detailed fighter creator. We also sometimes get to see these styles portrayed properly within the King of Fighters series, but it's still more about flash than substance.
This would be one of the first games that really pays homage to the styles that help the fight scenes pop on screen, as well as the characters that they've been attached to in order to make them legendary.
I'm excited to see Kings of Kung-Fu become a reality. It's a shame I hadn't come across it sooner, but with proper funding and a bit of media momentum, we could see this arrive for the home consoles alongside its PC release.
You can pledge funds to the project by visiting the official Kickstarter page or give the game a much-needed up-vote or two over on the Steam Greenlight page.
Your Daily Blend of Entertainment News
Staff Writer at CinemaBlend.
Your Daily Blend of Entertainment News
Thank you for signing up to CinemaBlend. You will receive a verification email shortly.
There was a problem. Please refresh the page and try again.