Kratos Opens A Can Of Whoop-Ass In New Mortal Kombat Trailers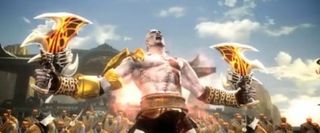 Two new videos have been released featuring God of War's Kratos and boy are they filled with bad-assery. Kratos fits perfectly into the Mortal Kombat realm with some unbelievably satisfying combos and bone-crushing special attacks. Any fan of the PS3 hack-and-slash will thoroughly enjoy the new videos.
The first video is a brief video documentary with Ed Boon and Stig Asmussen as they discuss the crossover of the character ending up in Mortal Kombat. It's amazing how "at home" Kratos looks and feel in Mortal Kombat. Heck, there's one part of God of War 3 that literally looks like it comes directly out of Mortal Kombat.
Throughout both videos gamers will get to see Kratos do what Kratos does best: beat the living crap out of anyone in his path. I really like how they have a worthy guest start in this iteration of Mortal Kombat that actually belongs amongst the fighters in the game. In fact, I might say that Kratos could be too badass for Mortal Kombat.
You can check out the videos below or head on over to the Official Website to learn more about the game. Mortal Kombat is set for release on April 19th on the Xbox 360 and PS3.
Staff Writer at CinemaBlend.