Late Night with Jimmy Fallon Will Have Gamer Humor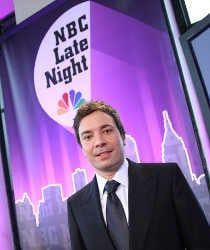 You know what's the biggest difference between incoming Late Night host Jimmy Fallon and outgoing host Conan O'Brien, other than the fact that you're less likely to watch Fallon? Jimmy's a gamer and plans on incorporating that interest into his shows.
"We're going to treat a video game premiere as if it was a movie premiere," said Fallon in an interview with Canada.com. "My generation grew up with the computer. We grew up with the Internet. We live in a video game type of world - video games are second nature to us. Games make more money, as an industry, than the film industry."
In addition, Fallon wants to see more technology-related content in his show. "I'm interested in tech, and I'm interested in gadgets. I want tech people to come on my show, whether it's Bill Gates or the guy who designed the new Palm Pre, to talk about new inventions."
Sounds good to me. Might not appeal to old people but they've all probably fallen asleep by 12:30 anyway. Besides, they've got Jay Leno and his bland, inoffensive shpiel. Late Night With Jimmy Fallon will premiere on Monday, March 2nd.
Staff Writer at CinemaBlend.
Your Daily Blend of Entertainment News
Thank you for signing up to CinemaBlend. You will receive a verification email shortly.
There was a problem. Please refresh the page and try again.