League Of Angels Soars Into Closed Beta Dec. 4th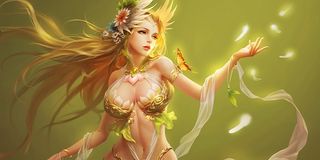 Gamers with a thirst for adventure are about to get a bit of heavenly assistance as the team at GTArcade announced the impending Dec. 4 launch of the League of Angels closed beta, giving the team a chance to fine-tune the game and test their servers before unleashing the online RPG unto the masses.
Despite the similarity in names, it looks like League of Angels has absolutely nothing to do with the hugely popular MOBA game, League of Legends. While both games are playable online, they don't even come from the same genre, as League of Angels is more akin to something like Ragnarok Online, a 2D MMORPG that offers turn-based battles featuring an army of scantily clad angels.
For more background information on the game and to sign up for the closed beta, you can head on over to the League of Angels official website. Otherwise, we've got a few more details, a gameplay video and lots of screenshots to share, so get comfortable for a few more minutes if your interest has been piqued.
It was announced that League of Angels would be coming west just last week and, only a couple of days ago, a Dec. 4 closed beta launch was finally revealed.
"The buzz generated by last week's announcement just goes to show how interested the browser gaming community is in League of Angels's one-of-a-kind combat system, amazing art and unique features," said GTArcade Product Manager Frances Sun. "I am fully confident League of Angels will be the leading browser game in 2014 and beyond."
That's a pretty bold prediction, but we'll just have to wait and see how things play out. In the game, players will be able to build a collection of angels to assist in battle. They'll also be able to take part in a match-three mini-game called Gemology in order to earn extra gems to buy new gear. The closed beta will also show off the game's fishing mechanics, mounts and a Wyrm Race events that lets players race a flying dragon through a dark canyon.
I've only been able to find one bit of gameplay footage for the game and, while you may not be able to understand what the commentator is saying, at least the visuals give you a good idea of what to expect once the game finally gets here.
Staff Writer for CinemaBlend.
Your Daily Blend of Entertainment News
Thank you for signing up to CinemaBlend. You will receive a verification email shortly.
There was a problem. Please refresh the page and try again.