The Legend Of Korra Shows Off Its Elemental Combat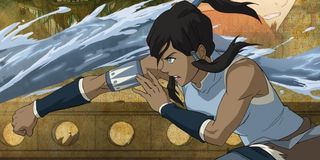 Earth, air, fire and water. Each element provides its own fighting edge in The Legend of Korra, and only the titular Avatar herself can bend them all to her will. The development team at PlatinumGames has pulled back the curtain on the fighting engine for its upcoming brawler based on the hit television series, showing off all four elements in the latest developer diary.
The Legend of Korra, which takes place between seasons two and three of the Nickelodeon show, is due to hit virtual store shelves on the PlayStation 3, PlayStation 4, Xbox 360 and Xbox One next Tuesday, Oct. 21. Leading up to the game's release, Activision Lead Producer Robert Conkey dropped by the PayStation Blog today to talk about what players can expect out of the hack-and-slash romp.
In case you're feeling a bit left in the dark, The Legend of Korra is the follow-up to Avatar: The Last Airbender. The show had two successful seasons on Nickelodeon and, due to some weird leaks and handling by Nickelodeon, went to streaming only partway through season three earlier this year. The fourth and final season, which takes place three years following the end of season three, is currently streaming online, too.
It's a shame about what happened to the show, because the first two seasons were quality television and the third season was the best yet. I haven't had the emotional fortitude to check out the final season yet (partially out of anger for how poorly the show was handled by Nickelodeon), but all signs point to it being absolutely fantastic.
Thankfully, the Korra game is still heading our way, with a short campaign that's designed to be replayed over and over again. Players will be able to move from element to element in the midst of combat, just like Korra herself. Coming from the folks responsible for the Bayonetta and Vanquish series, it's probably a safe bet that Korra will feature some fast and furious fisticuffs.
"The full adventure includes opportunities to ride Korra's polar bear dog companion, Naga, in high-speed gameplay scenes through Republic City and beyond, as well as a separate game mode in which Korra and her allies take on the competitive challenges of the pro-bending league arena," said Conkey.
Looking to see even more of Korra in action? Then check out the video below for part one of the developer diary devoted to the game.
Your Daily Blend of Entertainment News
Staff Writer for CinemaBlend.