Legend Of Korra The Game Coming To PS3, PS4, Xbox 360, Xbox One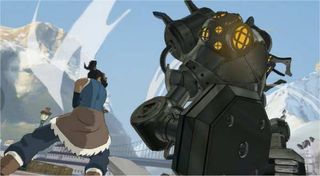 Platinum Games is taking their expertise in third-person action titles and extrapolating those skills to a brand that absolutely deserves a studio like Platinum Games at the helm: The Last Airbender – The Legend of Korra.
IGN recently tossed up the news about the game being in works by the same studio that recently brought you Metal Gear Rising: Revengeance, the completely over-the-top action game starring the cyborg assassin, Raiden. They're also the same team responsible for the controversial Wii U exclusive, Bayonetta 2. Even though there was a whole fallout over the way that game became an exclusive for the Wii U, the gameplay itself has been consistently praised for the ridiculously flashy moves and 60 frames-per second rendering options.
Platinum Games is also responsible for one of the most underrated and most beloved games of last generation, Vanquish.
It only makes sense by 110% that a company who is absolutely in love with flashy, fast-paced martial arts action would head up development for a game based on a cartoon about flashy, fast-paced martial arts action.
As noted in the IGN article...
The sounds pretty cool. We also see in one of the screenshots that Korra is riding on the bear, battling foes. This definitely calls into question if there will be mount-based gameplay involved, which doesn't seem unlikely given Platinum's penchant for vehicular-based combat in some of their previous games.
With Activision at the publishing helm, I do wonder about the game's overall quality. While Platinum may be known for pumping out exceptionally fun games with a great sense of gameplay presence and tight controls, Activision is also known for cutting strings short to meet deadlines and pumping out software based on licensed property for the cash-in value. It's easy to lose count of how many movie-based games the company has published and they have such a hit and miss ratio that it's a little scray to think about how The Legend of Korra might turn out.
If the game has some tight martial arts fighting moves, combos and counter-attacks, it could be saved on that facet alone. Of course, we'll first need to see some gameplay footage to make a proper judgment call on that feature.
The Legend of Korra is due for release on the Xbox 360, PS3, PS4, Xbox One and PC this fall. Sadly, there is no Wii U release planned even though Platinum previously released games like the Wonderful 101 on the system and the upcoming Bayonetta 2 is scheduled to arrive as well.
A second Legend of Korra game is also in the works by another studio working on a turn-based strategy game for the Nintendo 3DS. Looks like Activision still likes Nintendo... they just don't like the Wii U.
Your Daily Blend of Entertainment News
Staff Writer at CinemaBlend.