Lollipop Chainsaw Coming To Xbox 360, PS3 In 2012 And It's Not Porn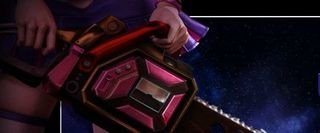 Warner Bros Interactive is going off into the deep end of software entertainment, tapping the likes of Goichi Suda (a.k.a Suda51) to head up a project that borderlines on Lolita fan-fetish with head-splitting zombie gore in the upcoming third-person shooter, Lollipop Chainsaw.
Martin Tremblay, President of Warner Bros. Interactive Entertainment commented in the press release, saying…
Grasshopper's last outing was the grotesquely over-the-top third-person, demon-hunting shooter game, Shadows of the Damned, with a lot of crude humor, Johnson jokes and gore galore. Warner Bros seems to have a vested interest in games that step off the beaten path lately, with one of their more popular publishing choices being Mortal Kombat, which has gone to enjoy major success as a well-received reboot of the popular franchise.
The upcoming Lollipop Chainsaw will be designed in a similar vein to Shadows of the Damned and at the director's helm will be Hollywood heavyweight James Gunn, the man that brought us movies like Super, Slither, Dawn of the Dead and the disturbingly funny Tromeo and Juliet.
This game is definitely going to be insane with someone like Gunn at the wheel and Suda51's Grasshopper Manufacture working the gears.
Lollipop Chainsaw's story is rather simplistic, with players assuming the role of the chainsaw wielding cheerleader, Juliet Starling, as she slices and dices her way to the truth of a zombie outbreak. With a name like Lollipop Chainsaw and a lead character named Juliet Starling, most parents might be tempted to think this was a cheap porno, but it's not…it's much worse, it's a video game.
You can look for Lollipop Chainsaw to hit store shelves in 2012 for the Xbox 360 and PS3. Need more info? Hit up the Official Website.
Staff Writer at CinemaBlend.
Your Daily Blend of Entertainment News
Thank you for signing up to CinemaBlend. You will receive a verification email shortly.
There was a problem. Please refresh the page and try again.