Mafia II Script Gives Heart Attacks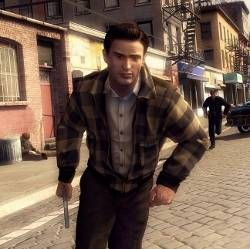 Gamers will probably have a lot of fun playing Mafia II next year. According to the latest developer podcast, though, it was a real pain in the ass to make it.
Director of Production Jack Scalici said during the podcast that he "had a heart attack" when he saw how large the script was. It started out with 50,000 words of dialogue, and it's since grown to 75,000. Further complicating things was the fact that writer Daniel Vavra is a native Czech speaker so he wrote the original draft in that language.
"[Vavra] speaks really good English, but he's most comfortable writing in Czech, so we had this monster of a script in Czech, and they hired someone to translate it into English," said Scalici. "And when the Czech people learn English, they typically learn British English, which is a lot different than the type of English we speak in New York, as you can imagine."
Scalici then had to translate the dialogue into "Brooklynese," so that the characters would sound like proper New Yorkers. Apparently they couldn't find any writers in Hollywood up to the task. "We wanted a writer on this full-time for about six months, working with Dan Vávra and myself to polish the dialogue, but we couldn't really find anyone who really understood video games and also understood this really unique type of dialogue that we needed."
And that's just the script, folks. Think of all the other stuff that needs to click to make a massive sand-box game work. Hopefully all those long hours turn into a good game. Mafia II's due in early 2010.
Your Daily Blend of Entertainment News
Staff Writer at CinemaBlend.