Mass Effect 3 Extended Cut Is More Than Just Cutscenes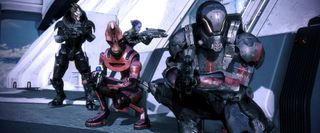 BioWare recently announced that they're going to release a free DLC pack to fix up Mass Effect 3's ending. At PAX East this weekend, they provided a bit more information on what gamers should expect from this "Extended Cut" DLC.
"We wanted to give the players a sense of personalisation with the endings," ME3 producer Mike Gamble said during a panel discussion. "Many people mentioned that some of the choices they made in the game are not necessarily reflected in the ending scenes. We're definitely going to focus on things like that."
"We want to make sure that when you see the ending of Mass Effect, you now have the information and context to be satisfied."
Presumably this means we'll get a Fallout: New Vegas-style ending that tells us what happened to each character. However, Gamble says that the Extended Cut DLC is "more than just a few cinematic cutscenes." He also mentioned that both the writers and cinematics team are working on it now.
Even though the DLC is, in a sense, an admission that the ending left many gamers unsatisfied, BioWare still maintains that they're proud of the game.
"The dev team stands by what was released in the core product and we're very proud of it. It was important though for us to listen to the community, and a lot of that feedback didn't come until the game came out. Once we were listening we decided to include the Extended Cut. It wasn't in the game because we didn't know there was such a huge demand for it, to be honest with you."
BioWare plans to release the Extended Cut DLC this summer.
Your Daily Blend of Entertainment News
Staff Writer at CinemaBlend.
Your Daily Blend of Entertainment News
Thank you for signing up to CinemaBlend. You will receive a verification email shortly.
There was a problem. Please refresh the page and try again.