Mass Effect 3 Voice Actors Include Jessica Chobot And Freddy Prinze, Jr.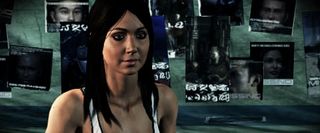 Today BioWare announced the voice actors behind their role-playing game Mass Effect 3. While most of the game's cast was introduced in the previous two installments of the trilogy, there are at least a couple new faces for ME3.
The new additions to the cast are IGN's on-camera host Jessica Chobot and film actor Freddy Prinze, Jr. (She's All That, Scooby Doo). Chobot will voice news reporter Diana Allers. Prinze, Jr.'s character is James Vega, a marine that will assist Commander Shepard in his mission.
"I have always loved science fiction and I have always loved games and Mass Effect is really the first time both come together successfully," said Prinze, Jr. "It is a completely immersive game where you really feel like you're part of this journey inside this universe. It will make you think, you will care about the character you are playing, and you will care about the characters that you bring into battle with you."
These two actors will join an already enormous voice cast for the game. Martin Sheen, Seth Green, Yvonne Strahovski, and Carrie-Anne Moss are some of the celebrities reprising their roles. It sounds like every actor from the previous games is back, in fact. That includes Mark Meer and Jennifer Hale, the voices of male and female Shepard.
Screenshots and video footage of the cast are below.
Image 1 of 6