Mass Effect 4 Will Be Discussed By BioWare This Week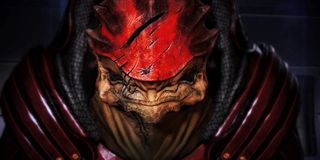 Mass Effect fans will get more details on the series' fourth chapter this week. BioWare is holding a panel discussion this week about Mass Effect 4's development.
The panel, entitled "Charting a Course: Developing the Next Mass Effect," will take place at San Diego Comic 2014. Lead animator Carl Boulay, producers Fabrice Condominas and Mike Gamble, senior artist Noel Lukasewich and community manager Jessica Merizan will chat about their behind-the-scenes experience in ME4. More specifically, they'll talk about how they're introducing "new possibilities while staying true to the critically acclaimed series."
We know very little about Mass Effect 4, other than its engine (Frostbite Engine 3) and lead developer (BioWare Montreal). BioWare's spent more time talking about what the game isn't. For example, they've confirmed that it isn't a continuation of Commander Shepard's adventures. It could be anything other than that, though.
The title hasn't even been announced yet. As of May, BioWare said that they still hadn't come up with one. They've been willing to shoot down rumored titles like Mass Effect: Contact and Mass Effect: Origins, though. This week designer Manveer Heir asked people to stop calling the game Mass Effect 4, too:
This isn't the first time BioWare's asked people to stop saying Mass Effect 4. Then-community manager Chris Priestly said the same thing back in 2013, albeit with more of an explanation attached.
"To call the next game Mass Effect 4 or ME4 is doing it a disservice and seems to cause a lot of confusion here. We have already said that the Commander Shepard trilogy is over and that the next game will not feature him/her,"
Expecting gamers or critics to use your preferred placeholder title is wishful thinking, though. Like it or not, the common assumption is that the next game in a series is going to just be the previous title + 1. Other examples include Fallout 4, Doom 4, and Gears of War 4. If this trend bugs you, maybe just announce the title? I can't imagine the game's title spoils that much of the story, unless they named it Mass Effect: Garrus And Wrex Become Private Investigators On The Citadel.
The Game That Must Not Be Named kinda-sorta appeared during EA's E3 press conference. BioWare showed off a trailer with development team members vaguely referencing the game. A few pieces of concept art were embedded throughout the video but didn't tell us much.
The Mass Effect 4 panel will be held on July 26th. It's only an hour-long - running from 2pm to 3pm - so we might not hear much about the game but something's better than nothing.
Your Daily Blend of Entertainment News
Staff Writer at CinemaBlend.
Your Daily Blend of Entertainment News
Thank you for signing up to CinemaBlend. You will receive a verification email shortly.
There was a problem. Please refresh the page and try again.