Max Payne 3 Triple XP Event Announced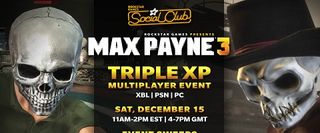 In keeping with the holiday spirit, Rockstar Games has announced a special multiplayer event scheduled for this Saturday with triple experience being given out all weekend long in Max Payne 3. As an added bonus, all Rock Star Social Club members will net themselves the perfect Halloween treat, a human skull mask for wearing around the virtual battlefields. Hey, I didn't say which "holiday spirit" Rockstar was keeping with. You just assumed I meant Christmas.
As for the big event, the first Social Club multiplayer get together of the winter will be this Saturday, Dec. 15, from 11 a.m. to 2 p.m. EST. While the event is going on, the Rockstar Dev players will be live-streaming their matches and chat live. Said event will also be part of a special sweepstakes wherein visitors can enter for a chance to win one of five Rockstar prize packs featuring shirts, keychains and stickers. Additional rules, info, Rockstar player names for the matches and links to everything you'll need can be found on Rockstar's webpage.
In case you miss out on the big multiplayer goings on, you'll still get triple experience all weekend long, no matter when you happen to log on and play. Just jump into a Max Payne 3 multiplayer session at any point throughout the weekend and enjoy three times the experience for all of those slow-mo kills you'll be pulling off.
Finally, Rockstar will be hosting a third promotion this weekend for user-made crews. The best teams on the leaderboards through the weekend can also earn themselves a special "Wedding Skull mask." The top 10 crews on each platform will earn the special mask.
Lock, load and get ready for a massive weekend of playing some Max Payne 3 online.
Staff Writer for CinemaBlend.