Medal Of Honor: Warfighter Beta Release Date Revealed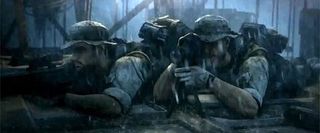 Medal of Honor: Warfighter's multiplayer beta is on the verge of launching. The Xbox Live exclusive beta for the military shooter will go live by the end of this week.
In the beta, players get to try out the Sarajevo Stadium map. They'll be competing in an all-new game mode called HotSpot. HotSpot is a capture/defend mode with a twist: the capture points are randomly designated. Testers will also get to experience the new features of Battlelog, the social platform also used in Battlefield 3.
Unlike the last Medal of Honor, Warfighter's multiplayer wasn't developed by DICE. Instead, Danger Close Games is handling both the single-player and multiplayer duties. The online play for Warfighter features friendly competition between 12 special forces units from 10 countries. They're hoping to avoid the whole "hey you can't put Taliban in a video game" clusterfuck from the previous game.
The beta will launch on October 5th according to Major Nelson. A Warfighter-inspired Linkin Park music video called "Castle of Glass" will be released five days later. However, the video will be released early if three million gamers download the beta. If you hate Linkin Park, note that the music video has some footage from Warfighter so you might enjoy it on mute.
The end date of the beta wasn't announced. However, Warfighter will be released on October 23rd in North America and in Europe on the 26th so the beta will likely conclude a few days before then.
Your Daily Blend of Entertainment News
Staff Writer at CinemaBlend.