Metro 2033 System Requirements Revealed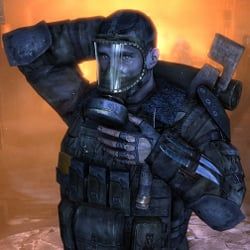 Surviving in post-apocalyptic Russia is no easy task. You'll need wits, courage, and, most importantly, a good computer. Here are the minimum, recommended, and optimum specs for Metro 2033, courtesy of THQ:
Minimum:
Dual core CPU (any Core 2 Duo or better will do)
DirectX 9, Shader Model 3 compliant graphics cards (GeForce 8800, GeForce GT220 and above)
1GB RAM
Recommended:
Any Quad Core or 3.0+ GHz Dual Core CPU
DirectX 10 compliant graphics card (GeForce GTX 260 and above)
2GB RAM
Optimum:
Core i7 CPU
NVIDIA DirectX 11 compliant graphics card (GeForce GTX 480 and 470)
As much RAM as possible (8GB+)
Fast HDD or SSD
Enabling 3D Vision
Metro 2033 utilizes NVIDIA 3D Vision with compatible cards and hardware. To play in 3D you will require:
NVIDIA GeForce GTX 275 and above recommended
A 120Hz (or above) monitor
NVIDIA 3D Vision kit
Microsoft Windows Vista or Windows 7
Staff Writer at CinemaBlend.
Your Daily Blend of Entertainment News
Thank you for signing up to CinemaBlend. You will receive a verification email shortly.
There was a problem. Please refresh the page and try again.